November 2021
When this edition of the Parish News gets published, the UN Conference on Climate Change in Glasgow will be about to start, and I will be in a state of extreme nervousness!
Back in the summer I was appointed as a Christian Aid Climate Campaign Organiser, with a brief to raise awareness and mobilise local churches as much as possible in the run-up to COP 26. It has been a great pleasure to address several Climate Sunday services and, by organising Great Big Green Week in Saffron Walden, to hope that I have had some impact on people's hearts and minds.
In August I thought how great it would be if every church and cathedral bell in the country were to ring out a warning on the eve of COP 26. It's what church bells have traditionally been used for and the warning couldn't be more urgent! So I set about writing to every diocese in the United Kingdom and suggested that the bells ring for 30 minutes from 6pm on Saturday 30th October to sound 'Code Red for Humanity'.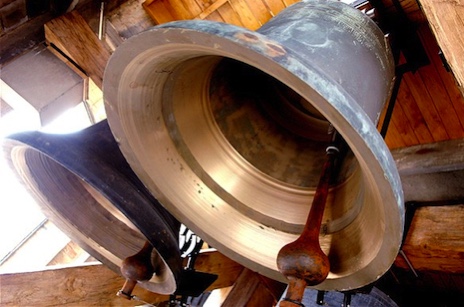 I was delighted when the idea was endorsed by Graham Usher, Bishop of Norwich and Lead Bishop for the Environment, who included the idea in his C of E Environment Bulletin. The Central Council for Church Bell Ringers were more circumspect, being worried that the bell ringing for COP 26 constituted a political campaign. That raises all sorts of questions about what politics is and the role of the church in it.
Politics is simply what happens when people gather together in communities or cities and organise themselves (polis is Latin for city and gives us cosmopolitan etc). So when the future of humanity is at stake, and nation states have to come together to negotiate, it can't help but be political.
But the threat of the climate crisis and the fate of all humanity surely takes us onto a whole new level. One which far transcends party politics to a realm where Christians, and people of all faiths, must surely exert all their influence as stewards of God's creation and as living examples of God's love for his children.
Having emailed every diocese twice, a bell ringer from Cornwall wrote to say she'd had the idea of ringing bells around the world, and soon I was getting messages from the US. So why not invite Australia and New Zealand too?
Soon I had a heart-warming reply from Bishop Matt Brain of Bendigo, full of enthusiasm for the idea, but describing 'the sad political reality in Australia where we are enmeshed in harmful policies which are being used to score political points. Coal mining has become something of a shibboleth which has then avoided the actions which can be made.' In such a toxic atmosphere I can well understand bishops being nervous of following in the footsteps of Thomas à Becket!
Earlier this summer I visited Rev John Goddard, our Baptist minister, to encourage him to hold a Climate Sunday service or embark on the Eco Church journey. Towards the end he told me that God had clearly placed the burden of environmental activism on me. I had never thought of it that way, but his words sank in and it certainly does feel to have become a burden, and sometimes a very frightening one.
I would much rather not be an activist! I'd love to get on with a contented retirement, but first I would like to hear the bells of St Mary's ring out on 30th October. Then, in response to voices around the world, to learn that serious, hope-giving actions were being pledged and taken in Glasgow. Perhaps when the world starts to dramatically reduce its emissions and devise an economic system that works in harmony with nature, I will be able to relax.
Return